Abuja Metro
Crime
Welcome to Pantaker in Abuja (Everything You Need To Know About the Flee Market)
In Abuja, flea markets are popularly called "Pantaker", where fairly used items are sold. But residents are changing the name to "Pain-taka" as the flea markets are fast becoming repositories forstolen goods.
In 2014 Godwin Tyonongu interviewed the chairman of Nyanya, Pan Taker Traders (NPTA), Idris Ado, and below is what he explained versus what people believed is happening in Pantakers today in Abuja.
According to Mr Idris Ado he said and i quote.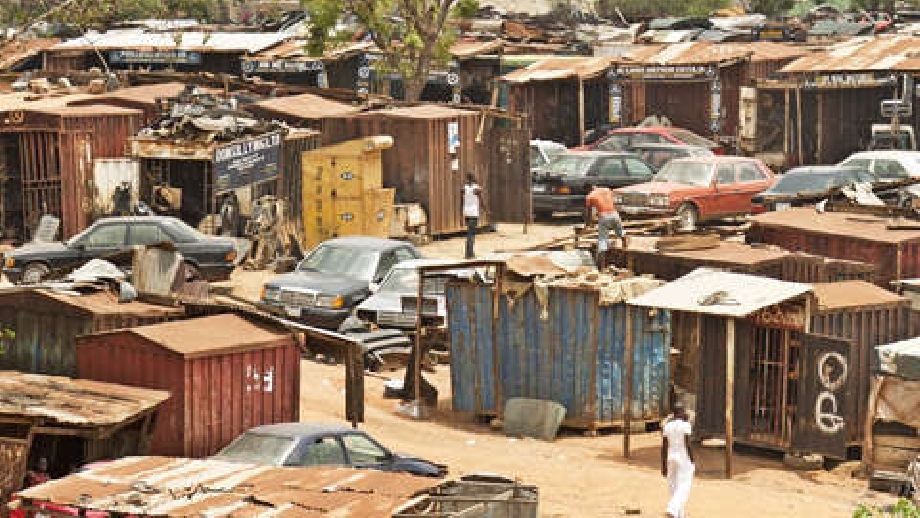 Ado, while explaining to Blueprint how the trade operates, said the benefits derived from the industry far outweighs the misgivings that the public might hold against it.
He said: "We exchange business with many people. When they demolish houses, we go there and help them in buying the items like iron, doors, glasses, aluminum and all sorts of appliances you can think of.
"Again, when workers are transferred to other cities or towns for their job, they do find it difficult to convey heavy load such as fridge, TV, cushion chairs etc. so they bring it to us in exchange for money and it helps them tremendously.
"Another benefit is that most people who could not afford to purchase brand new properties have always found us useful. They come to us because our prices are relatively affordable and it is with this kind of arrangement that some people have been able to stock furniture in their houses".
Blueprint learnt that the traders normally buy the fairly used materials from their owners according to each person's financial muscles. How cheap an item sold depends, to a large extent, on how its value has depreciated.
One striking feature of the market is that the people who are well to do have little or nothing to do with it, except the low income earners whose choices are inevitably slim.
In the past, the pan-takers were transacting illegally but currently, they have gotten the nod of the Corporate Affairs Commission (CAC) to run as a recognized body. But even with the registration, their kind of business is often misconstrued for those acting the script of the criminals.
"They used to accuse us of buying stolen items whereas it's untrue. We even distaste anything criminal. When people bring suspicious properties to us, we normally alert the police who would then arrest and detain such suspect", the chairman said.
But Today Pantakers in Abuja is Something Else!
Residents whose apartments, warehouses and shops are looted by armed robbers are advised to head to the nearest Pantaka, after lodging formal reports at the police station, to see if their wares are among those displayed for sale or tucked away discreetly for "special customers" on request.
This unorthodox approach to crime bursting has paid off in several instances where stolen items were recovered from various Pantaka outlets.
Crime experts and social commentators attribute the troubling development to increasing levels of hardship in the country. This perhaps, finds expression in surging inflation, hike in prices of electrical appliances and general household equipment.
Gadgets targeted by these thieves include television sets, refrigerators, DVD players, washing machines and gas cookers. Owners of these items acquire them brand new, foreign used (tokunbo) or Nigeria used.
But the thieves, who often steal these goods in massive midnight raids, sell them for next to nothing just to get quick cash to wine and wench briefly and thereafter, return to their horrible street life.
Daily Sun's findings show that there has been a significant increase in burglary cases in Abuja, especially in suburban areas and slums where security is weak. This is because the flea markets have become conductive ecosystems where sellers and buyers of stolen goods meet to transact businesses in minutes. The items are sold at give away prices.
Robbery cases, it was gathered, are equally on the rise especially with the Yuletide festivities on the horizon. Robbers storm homes in their dozens and take their time to dismount and steal plasma TVs, decoders, washing machines and other appliances that are easily moveable.
Mrs Grace Onyebuchi, a hairdresser, narrated how her friend's house in Karonmajigi, sprawling shanty along the Airport Road, was burgled: "My friend came back home one day from work to meet an empty room. The house was swept clean of every single item he owned.
"His refrigerator, generator, bed, fan, television, decoder including wardrobe and mattress were all missing. He could not believe his eyes.
He called me and I advised him to immediately storm all the "pantaka" stores around. It was quite late and they had all closed for the day.
"The next day, he went by 7am and at one of the stores, he found most of his things. Although some of them were missing, he was able to recover some as he quickly got the police involved and provided evidence that the property were his. The owner of the shop was arrested and he claimed to have bought the items from another person.
He was asked to provide the person that sold the items to him.
"After several days in detention and he could not provide the person, he was eventually released. You know how the country is. My friend said he didn't have the time and resources to push the case. He was at least grateful to recover most of the stolen items.
"Since then, I have become very weary of buying things from "pantaka" shops. I don't want to buy something that tomorrow, someone will come and arrest me saying I bought stolen goods."
Another resident, Emmanuel Auta, a painter, said his house and several others were recently attacked by robbers and made away with a lot of valuables: "We later decided to track the phones and were able to trace one of them to Jabi Garage.
"We got the police involved and the person using the phone arrested.
He claimed he bought the phone from someone at the garage, but didn't not know who the person was. He was detained but was never able to get hold of the person that sold the phone to him."
Samson John, a manicurist narrated his experience: "When I came to Abuja, I lived under the bridge for several months before I got a place and furnished it. The place is around Lugbe axis. I got back home one day and found the house empty. It had been burgled. My padlock was melted using something that looked like acid.
"I asked neighbours and they said they saw someone moving my things in a truck and thought I was moving out. I reported to the police. They asked if there was anybody I was suspecting. Since my neighbours could not recognise the person they saw moving my things, there was no way to apprehend the perpetrators.
"I won't be surprised if the stolen items are taken to those "pantaka" stores and sold. I am sure they sell them off at half the prices since they were not the ones that went through the pains of acquiring them."
Police told Daily Sun that regular raids are carried out on flea markets and other spots known for crime. They also advised residents to be careful in purchasing used items, as some of them can be stolen goods:
"Stolen goods are like hot potatoes. Whoever is caught with must eat it. Ignorance is no excuse. Get receipts of purchase showing seller's authentic address and phone number.
"In addition, buy items with the user's manual intact. And of course, residents should report burglary or robbery to the nearest police station."