Residents led by Ebira Stakeholders Movement, on Saturday, protested the continued poor electricity service by Abuja Electricity Distribution Company (AEDC) in central senatorial district of Kogi state.
The protesters, in their numbers, took over major streets in Okene, the nerve centre of the senatorial district to protest against near-zero power supply and over-billing by AEDC.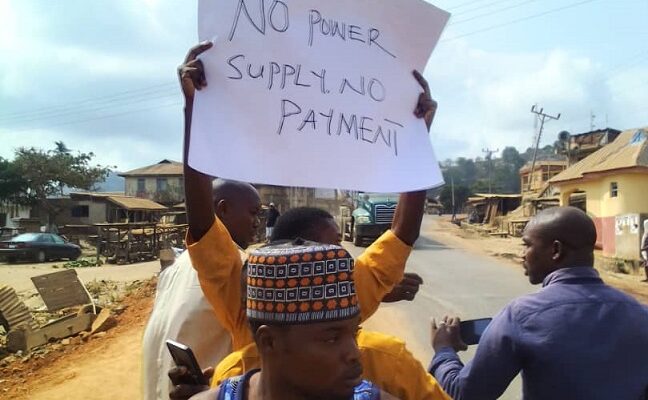 Speaking with newsmen during the protest, the Chairman of Ebira Stakeholders Movement, Mr. Audu Momohjimoh, said Kogi Central axis has not been enjoying steady electricity supply in the last three years but customers continue to receive "fabulous and exorbitant bills without justification".
He said the group has resolved that disconnection and distributions of bills by AEDC should be on hold till further notice.
The protesters also called on AEDC to remove its Okene Area Manager.
"AEDC in Kogi Central senatorial district is not ready to do genuine business with their customers.
"This group met with AEDC management in the regional, state headquarters and Okene Area Office to discuss the causes of epileptic power supply which led to total halt of businesses and social activities in the zone and equally to find lasting solution to this nightmare.
"AEDC did not honour the agreement reached rather they are frustrating customers, robbing them of time and hard earned money on poor electricity power supply and over billings for power they did not use.
"But today, all these have to come to an end," he said.
Audu explained that Okene, Adavi and Okehi LGAs in Kogi Central senatorial district have the highest cases of epileptic power supply and obnoxious over billing in the state.
He said the group met with AEDC management from headquarters led by Engr. Muktar on 29th December, 2018 and the electricity distribution company promised to change all obsolete equipment in the area to ensure steady power supply.
However, AEDC failed to replace obsolete.
Audu said AEDC must stop compelling customers to buy failed electricity equipment that ordinarily should be the company's responsibility, insisting that erratic power supply and complete outage must stop.
"Extortion through over billing will not be welcome henceforth. We demand for 24 hours electricity supply as it was announced by the Federal Government.
"Also, harassment of customers by AEDC officials and adhoc staff, called helpers, must stop as well. AEDC staff must move with their ID cards while on duty to enable community identify the genuine staff, and all AEDC installations should be protected to avoid been vandalized," he said.
Ebira Stakeholders Movement Initiative said it works in collaboration with AEDC and Community Relation Committee in Kogi Central senatorial district, the committee saddled with the responsibility to check and meditate between AEDC and the community in the area.
See Some images from the protest below;