The Independent National Electoral Commission (INEC) has initiated the recruitment process for election staff for the upcoming governorship elections in Kogi, Bayelsa, and Imo states on November 11th.
The application portal will be active from August 31st, 2023, starting at 8:00 am, and will close on October 2nd, 2023, at midnight.
The portal is open for eligible individuals to register for various ad-hoc staff roles (SPO/PO/APO/RATECHs/RAC Managers), excluding Collation officers.
To access the registration portal (INECPRES), visit www.inecnigeria.org or go to pres.inecnigeria.org. You can also use the mobile Android App via this link: https://inecpres-app.com/pres-app.apk
For technical assistance, you can contact the help desk officers:
Kogi: Queensly (07055494581) / Buhari (07083613700)
Bayelsa: Rukayat (08123871346) / Chioma (08032443141)
Imo: Bolaji (08059653879) / Lizzy (08098604364)
You can also reach the INEC Citizen's contact Centre at 0700-CALL-INEC or send an email to [email protected] for technical assistance.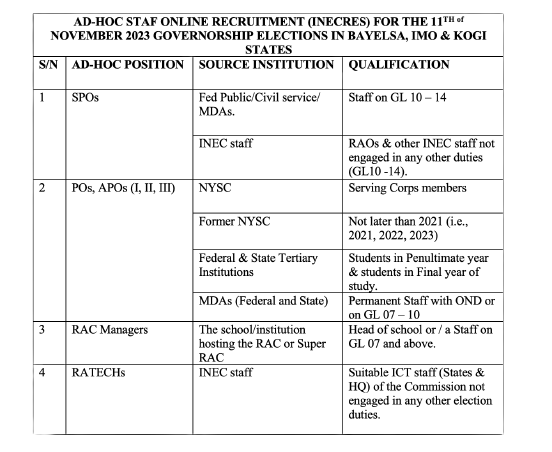 To be considered for ad-hoc staff roles in the governorship elections, submit your registration forms online.
Note the eligibility criteria mentioned, including not being a political party member and not expressing support for any candidate or party. Residence in the selected state is required, except for RATECHs.