Table of Contents
Introduction
Unlocking the health benefits of Bananas: A Fruit-Packed Powerhouse
Health Benefits of Bananas – Bananas, often considered a humble tropical fruit, are more than just a tasty snack. They come with a myriad of health benefits that might just change the way you look at them.
From regulating blood pressure to aiding brainpower and even soothing mosquito bites, the banana's versatile nature extends far beyond its peel.
Let's delve into the fascinating world of bananas and discover how they can contribute to your well-being.
Related: Snail Slime For Curing Stroke: Hidden Benefits and Uses of Snail Water
Bananas and Blood Pressure: A Natural Ally
Bananas are renowned for their high potassium content, a crucial mineral that plays a significant role in regulating blood pressure. Their low sodium levels make them an ideal choice for those looking to maintain healthy blood pressure levels.
In fact, the US Food and Drug Administration recognizes the banana's potential in reducing the risk of both high blood pressure and stroke, allowing the banana industry to make official health claims.
Also Read: Health Benefits of Bitter Leaf That You Were Not Told
Bananas vs. Mosquito Bites: A Natural Remedy
Before reaching for that insect bite cream, consider the simple banana. Rubbing the inside of a banana skin on the affected area can work wonders in reducing swelling and irritation caused by mosquito bites. It's a natural and effective remedy that many people swear by.
Bananas and Brain Power: Fuel for Thought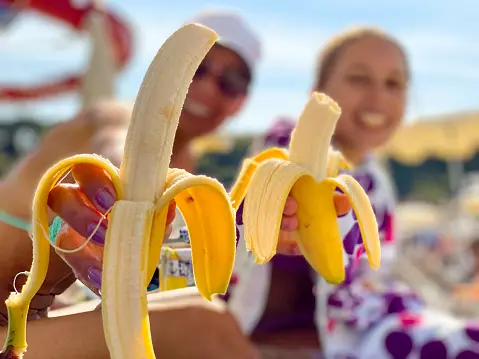 In a study conducted at a school in Twickenham, England, 200 students were encouraged to incorporate bananas into their daily routine during exam periods.
The results were impressive – the potassium-packed fruit helped boost their alertness and concentration levels.
This suggests that bananas can play a role in enhancing cognitive function and making students more focused during critical tasks.
Bananas for Hangovers: The Sweet Solution
For those dealing with a dreaded hangover, a banana milkshake sweetened with honey can be a lifesaver.
This concoction provides essential nutrients and helps replenish lost electrolytes, making it one of the quickest ways to recover from a night of overindulgence.
Bananas and Ulcers: A Soothing Touch
Bananas are often recommended as dietary food for individuals dealing with intestinal disorders, especially in chronic cases.
Their ability to neutralize over-acidity and reduce irritation by coating the stomach lining makes them a soothing choice for those with ulcers and related issues.
Bananas for Temperature Control: A Cooling Fruit
In various cultures, bananas are seen as a "cooling" fruit that can help lower both physical and emotional temperatures, especially in expectant mothers. In Thailand, for example, pregnant women often turn to bananas to ease discomfort.
The Nutritional Powerhouse: Bananas Unveiled
Bananas are a rich source of natural sugars, including sucrose, fructose, and glucose, combined with fiber. This unique combination provides an instant, sustained, and substantial boost of energy.
In fact, research has shown that just two bananas can provide enough energy for a strenuous 90-minute workout, making them a favorite among athletes worldwide.
Bananas: Your Path to a Healthier You
Beyond energy, bananas have the potential to prevent and alleviate various illnesses and conditions. Their versatile nature, coupled with their nutritional richness, makes them a must-add to your daily diet.
Conclusion on the health benefits of bananas
Bananas are far more than a convenient snack; they are a natural powerhouse of health benefits. From maintaining blood pressure and aiding brain function to soothing mosquito bites and alleviating hangovers, bananas deserve a prominent place in your diet.
So, the next time you peel a banana, remember the incredible array of benefits this fruit brings to your life – it's not just a snack; it's a superfood in disguise.